Shining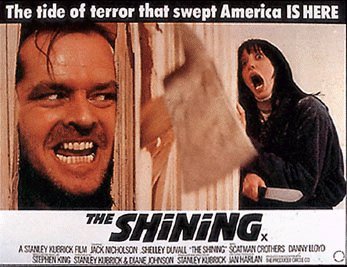 Nationality : British
Theatrical release date : 23 May 1980
Directed by: Stanley Kubrick
Cast : Jack Nicholson, Shelley Duvall, Danny Lloyd
Runtime : 2h
Genre : Horror
Certificate : 18

--sources: allocine.co.uk & ac-nice.fr--

Hall of the Overlook Hotel
REDRUM .....


Trailer



Jack with caretaker ghost
The twins of the former caretaker


Plot synopsis :

Frustrated writer Jack Torrance takes a job as the winter caretaker at the ominous, mountain-locked Overlook Hotel so that he can write in peace. When he arrives there with his wife and son, they learn that the previous caretaker had gone mad. Slowly Jack becomes possessed by the evil, demonic presence in the hotel.

Jack in a Murderous madness



My opinion :

We discover in this film an harrowing universe, and a Jack Nicholson absolutely frightning. The atmosphere is, for me, totally absorbing, and we are eager to know what could happen after !! Morever, I like the contrast between the chalet and the snow.
Snow which reminds me innocence, Christmas, happy days, and on the other hand, the violence of the scenes we see all along the film.
Personnaly, I recommend it to every lover of this kind of movie.

We can notice that Stephen King, who was unhappy about this adaptation, decided later to direct his own adaptation of his writings.


Another hallucination of Jack.....

Around the film :

- Link to Imdb
- Allocine.co.uk

- Writings of Stephen King :




- The adaptation by Stephen King who transposes himself his book on TV in 1997 in a mini-series :

- Imdb form