BUILT TO SPILL




Built to Spill is an American indie rock band based in Boise, Idaho. The band is most well known for its catchy guitar hooks and the unique voice of frontman Doug Martsch.
-----source: en.wikipedia.org-----

If you like music, you'll like Built to Spill. Bold statement? Perhaps... But it's true. BTS singer and guitarist Doug Martsch writes pop songs that are always compelling, often inspiring, and occasionally perfect.
-----source: www.epitonic.com-----

Built to Spill were one of the most popular indie rock acts of the '90s, finding the middle ground between postmodern, Pavement-style pop and the loose, spacious jamming of Neil Young.
-----source: www.allmusic.com-----




One of my favourite bands, for sure. An incredible musical diversity coupled with a voice so apart. Each LP is a masterpiece, with its own atmosphere and musical directions.
Unfortunately I can pride myself on having seen them live since they rarely come in Europa (should I say never?). Anyway, I keenly recommend this excellent band to every rock lover.




Line-up

Doug Martsch


Scott Plouf


Jim Roth


Brett Nelson


Brett Netson



Discography

Ultimate Alternative Wavers (C/Z Records 1993)



There's Nothing Wrong with Love (Up Records 1994)



Perfect from Now On (Warner Bros. 1997)



Keep It Like a Secret (Warner Bros. 1999)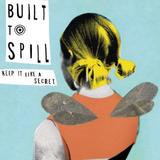 Ancient Melodies of the Future (Warner Bros. 2001)



You in Reverse (Warner Bros. 2006)



Influences

Dinosaur Jr.
Pavement
Neil Young
...




A bit like...

Modest Mouse
Mercury Rev
Sebadoh
White whale
...




Turn up the volume!

2 video clips: "In the morning" - "Car" (Real Player required)
-----source: www.labels.tm.fr-----

3 songs you can listen on their official website: "Liar" - "Conventional wisdom" - "Goin' against your mind"

"Twin falls" live (bad image but acceptable sound)
-----source: video.google.com-----

... and many others if you search a bit by yourselves




Links

Official website
AllMusic Band presentation